Q1:What does this coffee printer Print ?
The Coffee-Printer can print our own images,designs,photos,words and phrases,or designs from library
Q2:How does this printer print on coffee?
This printer is ink-jet printer,it need to use edible ink for printing,we just need to connect printer with computer and printing from our computer,we will have software for you
Q3:How about the ink? is it safe?
The ink is produced by special ink supplier,it's food grade edible ink,also we have Test Report for this edible ink,so this ink can get in any market easier
Q4:Does the printer difficult to use?
Printer is very easy to operate,we will have video and training details,also we provide online after sales service
Q5:Do you supply all consumables,such as ink,spare parts,and all needed parts?
Yes,it's sure,we have all consumables on selling,also all spare parts on selling,printer will comes with 12 months warranty
Q6:What's the warranty that you provide?
Printer comes with 12 months warranty,which not including printer head,also not including factors.Any other problem we will provide free replacement parts including shipping cost,also we will provide technology support
Q7How soon that i can get the printer after i paid for it?
Our production time is about 6 days,and we usually ship printer by DHL,which takes 3-5 business day to arrive,so you just need to wait about 9-14 days to get this printer after you paid for it;sometimes if we have stocks,we can ship out within 3 days,so you can received int within 6-8 days
Printer Model:3424
Technology:INKJET PRINTING
Printer Head Version:HP Printer Head
Ink Type:dible Food Ink,color C M Y K
Print Speed:10-20 S/Cup
Print Height:0-18CM
Print Area: A4 Size,19x21CM
Power Rate:10W
Ink Supply System:2 Separate Cartridges,1 For Black Ink,1 For C M Y Ink
Software:Customize Software support Windows xp,Win7,Win8,Win10 System.Inside software,we can take picture and edit image and its size,upload picture or use the picture inside library.
Height Adjust System:Automatic,Automatic Adjust,Controlled by Infrared Ray
Printer Weight:10KG
Priner Size:41*43*47CM
Working Condition:10℃- 35℃,Humidity 20%-80%
Applications:Print on Drinks like coffee,milk,milkshake,and also print on foods like chocolate,cookies,Small Cake etc.
How printer works?
We can print on any foods, here are few samples picture: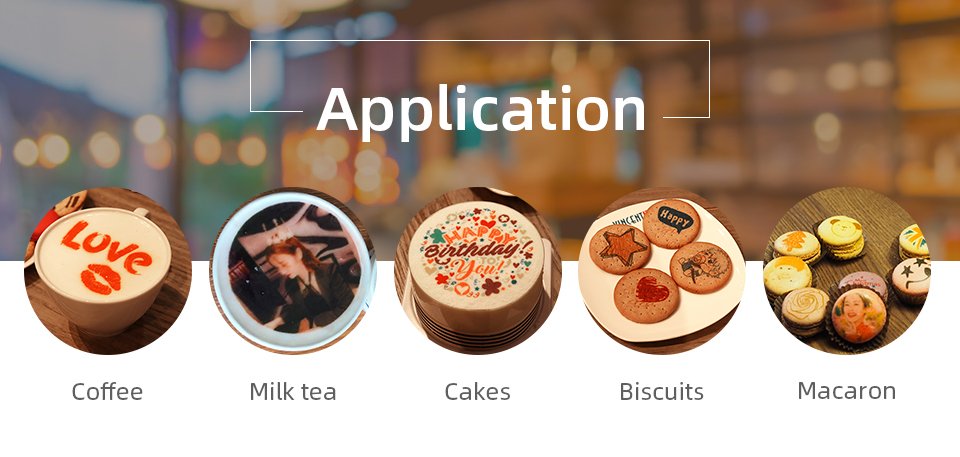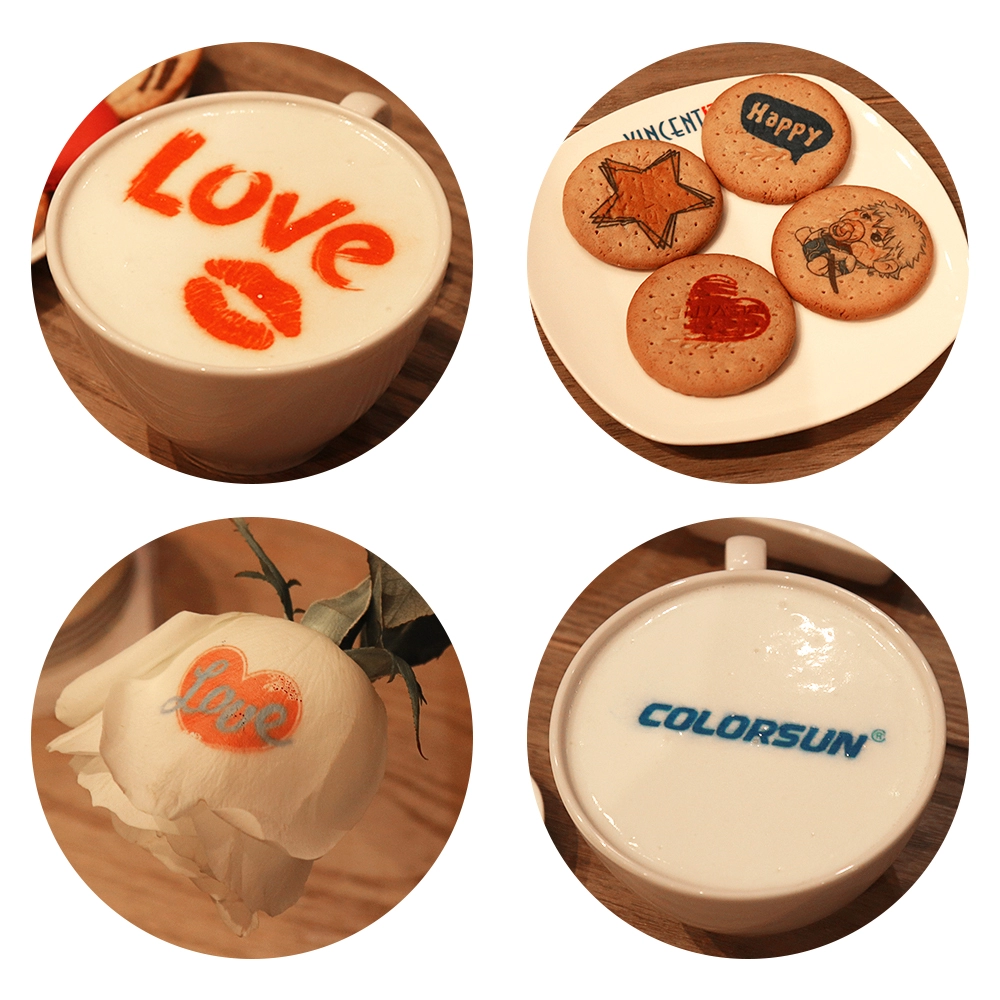 Total Reviews (0)
click here write review to add review for this product.